MEET JOHN O'KEEFFE – ENGLAND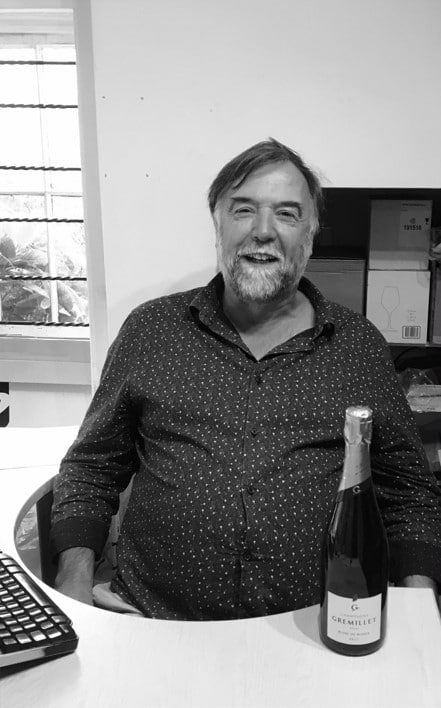 John is Key Accout Manager in CPW  for restaurants & wine shops.
He's the best guide for a tour around Devon's countryside bumpy roads.
What's your background ? How did you get in the wine industry ?
Returning to the UK after travelling abroad, I found a van driving/shop assistant job at Oddbins, a retail wine chain in the UK.  Oddbins was full of highly motivated 'misfits' where I learned as much about wine as quickly as I could.  I progressed to being a manager and then took the oppportunity to work in a wholesale business with Christopher Piper Wines.
What has been the most memorable wine you tasted ?
Riesling Spatlese, Nahe, Germany, 1976.  Can't remember which producer (magnificent 'old school' label with Imperial German eagle is all I can remember) but it was sublime. I learned more about wine from that one bottle than any qualification
What is your favourite Champagne Gremillet cuvée?
Blanc des Noirs NV.  The Côte des Bars may not be widely known, as it is detached from the  main Champagne regions,  but the Pinot Noir is fabulous and there are many small-scale producers making top quality Champagne.  Gremillet's Blanc de Noirs absolutely reflects its terroir, which is crucially important, and also makes my tastebuds happy.
Which [national dish] would you pair it with ?
Morel mushrooms, sauteed in salted butter, with a touch of Lea & Perrins and Thai Sriracha sauces, on top of toasted rye sourdough
In 3 words, how would you describe your countrymen/women ?
At the moment (Brexit and Covid-19) : confused, suspicious, deflated.
Normally : pragmatic, kind, interested.
In 3 words how would you describe the French ?
I'm not falling into that trap !
A typical  word you can teach us in [national language or local slang if English]
Devon has a lovely word called 'dimpsy', which describes the soft fading of the light as the sun sinks towards the horizon.